---
---
The Nitro Optisym Snowboard is an asymetrical jib merchant for riders who just can't help themselves. From side hit sends to cat track kickers and everything in between, the Optisym turns the mountain into your playground. Where it really differs from traditional boards is not only its asym shape, but also its construction. Nitro have reinforced the heelside of this board with an extra helping of skate wheel urethane to better handle the inevitable abuse from rails and features. It's strong, but it's nice and flexy too, perfect for everything from butters and bends to wall splats and flatground tricking. If this sounds like a normal day on the hill for you, this is the one.
Rocker Type
Cam-Out Camber – A classic camber shape with early and smooth transitions into tip and tail. The result is a fun and responsive board that turns on the spot and is forgiving, even after that 713.5° landing!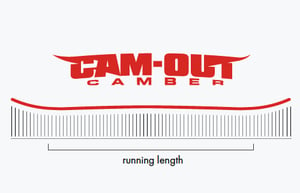 Flex
Urban – This ultra-flexible board can be tweaked any way you like, from rails to butter tricks, and it won't wash out on you.
Flex Rating – 6 (1 Soft - 10 Stiff)
Shape
Dual Degressive Sidecut – This sidecut blends a smaller radius in the center with two larger radii in the tip and tail, making it loose and playful. Nitro's most forgiving sidecut.
Core
Whiplash Core Profile – This profile features reduced thickness between the inserts with added meat outside your feet for maximum ollie power while maintaining a perfect press flex.
Power Core II – A tip-to-tail poplar wood core with beech wood stringers offers unrivaled strength, smooth response, and insane snap.
Laminates
Bi-Lite Laminates – Nitro's rider-trusted Bi-Lite Laminates are engineered for a powerful riding style and a refined board-feel.
Sidewalls
Ureshred Sidewalls – Just like skate wheels and bushings, these sidewalls are made from polyurethane, which makes them highly resistant against impact and abrasion as well as giving them excellent dampening characteristics.
Powerwall – New construction of Ureshred Polyurethane sidewall material integrated into the core strengthens the core on the heelside edge. The sidewall material has a curved design in the wood core and a +20mm peak in between the bindings. This additional sidewall material provides extra durability and damping properties while improving the agility to get on an doff your heelside edge. Powerwall gives more support for flatland tricks and added durability for carving and knuckle tricks.
Base
Premium Extruded FH Base – Durability, speed, and low maintenance all in one ultra clear base material.
Edges
Rail Killer Edge – Your secret weapon for rails, rocks, and longevity! With it's unique edge profile and an impact resistance of more than 200% compared to a standard edge, the Rail Killer Edge is twice as thick and twice as strong. This proprietary construction can take on any rail challenge. Take a file to them or ride them hard and wear them down naturally, this chunk of steel has enough meat for years of abuse.
---